- Gatwick International Airport
Gatwick Airport (IATA: LGW, ICAO: EGKK) is London's second largest airport and the second busiest airport in the United Kingdom after Heathrow. It is the world's 22nd busiest airport in terms of passengers per year (7th in terms of international passengers). It is also often quoted as the world's busiest single runway airport. Gatwick is located in Crawley, West Sussex (originally Charlwood, Surrey) 5 km (3 miles) north of the town centre, 46 km (29 miles) south of central London. Gatwick Airport has two terminals, called North and South.
Both terminals at Gatwick offer facilities for travellers, including shops and restaurants, both landside and airside. Disabled passengers can travel easily through the airport with all areas being fully accessible. There are facilities for baby changing and feeding, play areas and video games to keep children amused. Business travellers are offered executive lounges offering peace and quiet. There is also a conference and business centre with meeting facilities and business services.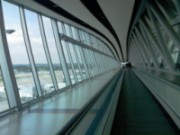 TRAVELLING INFORMATION
Checking-in
The check-in ares in each terminal are located in the second floor.You can find the desired check-in zone in the informations screens near the entrace.
Long-haul flights: Check in three hours prior to scheduled departure.
European flights: Check in two hours before scheduled departure.
UK and Ireland flights: Check in one hour prior to scheduled departure.
Security control
You have to be aware that are restrictions on the limits of hand baggage sizes and on the quantity of the liquids which can be carried. Anything you buy after security control it can be taken on the aircraft.
Parking
For security reasons all the unattended cars which are park in the non designated areas will be towed away by the police and a fine must be paid in order to retrieve the vehicle. In the airport area you can find short stay parking, long stay parking as well as the Gatwick Valet Parking.